CDER Prescription Drug Labeling Conference
December 4 & 5, 2019 This event is FREE to attend

The goal of this interactive conference is to provide useful information on prescription drug labeling development and discuss recently published FDA labeling guidances. FDA labeling specialists will present their unique perspectives concerning approaches and challenges in developing the Prescribing Information, FDA-approved patient labeling, and carton/container labeling, and will discuss methods to improve the quality of Structured Product Labeling (SPL) submissions.

Meeting participants (in-person and online) will have an opportunity (as time allows) to share their experiences and ask questions during dedicated Q&A panels.
Topics Include:
Updating labeling
Overview of recently published FDA labeling guidances:

Indications and Usage section of Labeling guidance
Drug Abuse and Dependence Section of Labeling guidance
Product Title and Initial U.S. Approval in Highlights of Prescribing Information guidance

Adverse reaction information in labeling
Specific population information in labeling (e.g., pediatric patients, pregnant patients, lactating patients, and females and males of reproductive potential)
Clinical pharmacology information in labeling
Product quality information in labeling
Labeling for biological products
Product nomenclature
Improving the format and appearance of Prescribing Information
Safety considerations for container labels and carton labeling to minimize medication errors
Improving consistency of information in the Prescribing Information and carton/container labeling
FDA-approved patient labeling (Instructions for Use)
Methods to improve the quality of Structured Product Labeling submissions
Who Should Attend?
Our 2019 CDER Prescription Drug Labeling Conference is intended for industry, academia, payors, healthcare information providers, and healthcare providers who:
Review, develop, submit, or use the Prescribing Iinformation, Instructions for Use, and/or carton/container labeling
Create or submit Structured Product Labeling files to the FDA
Continuing Education Credit
This two-day conference has been pre-approved by RAPS as eligible for up to 12 credits towards a participant's RAC recertification upon full completion.
This event has been pre-approved by SQA as eligible for 0.25 non-GCP or non-GLP units for every 1 hour of instructional time towards a participant's RQAP re-registration.
ACRP provides research-specific continuing education for the completion of this activity. Contact hours are provided at 1 point/hour for at least 45-60 minutes of qualified material.
SOCRA accepts documentation of candidate participation in continuing education programs for re-certification if the program is applicable to clinical research regulations, operations or management, or to the candidate's clinical research therapeutic area.
Real-time attendance is required for attendance certificates which are only available during the two weeks after the event.
The agenda is subject to change. Updated versions will be linked here as they become available. The current version is 3, uploaded on October 14, 2019.
This PDF file contains brief biographies of the FDA speakers participating in the conference. The biographies document is still under development and will be linked here as soon as it is ready.
Venue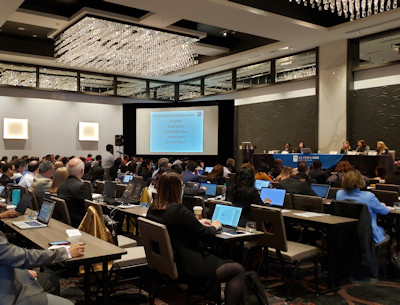 The Hotel at the University of Maryland
7777 Baltimore Avenue, College Park, Maryland 20740
Phone: 301-277-7777
Hotel Room Block Information
You may reserve your guest room within the Prescription Drug Labeling Conference room block using this link or by calling THE HOTEL's reservations line at 844-954-6835. The discounted rate of $159 will expire on November 19, 2019 or when the block is filled, whichever comes first, so please book your rooms now. You will be responsible to reserve and pay for your own room accommodations. Please be mindful of the hotel's policy regarding cancellations and early checkout.
Transportation & Parking
Please view the hotel's Transportation page for transportation and parking information.
Dining
Please view the hotel's Dining page for information on the food choice in the hotel. Potomac Pizza and Bagel 'n Grinds allow you to pre-order online, which may help expedite your lunch break.
Networking Opportunity
A networking opportunity is available for on-site attendees during the conference. The networking event will be held in the Lobby Bar at the hotel. This is an optional self-pay event.
Recording Disclosure
This event will be recorded and made available to the public after its conclusion. Any information shared publicly by participants during the event will become part of that recording. This includes the verbal questions and answers sessions.
For Reasonable Accommodations
If special accommodations at the workshop are needed due to a disability, please email [email protected] at least 7 days in advance of the workshop date. Requests for sign language interpretation or Computer Aided Realtime Translation (CART)/captioning should be made 2 weeks in advance of the workshop and should be sent directly to the FDA Interpreting Services Staff email account: [email protected]
Please register to attend virtually if you are unable to travel to College Park, MD to attend in-person. The virtual conference will be hosted via Adobe Connect and is limited to 2,000 simultaneous attendees (1,000 each in Room One and Room Two). If a room is full when you attempt to enter, please try the other room. The recordings of each of the sessions will be posted on the Past Events page within 24 hours.
The links below to the Adobe Connect room for each track will be activated shortly before the event begins.
The above rooms will open 15 minutes before each day begins.
Randomly pick whichever Room you prefer. Please do not join both rooms at the same time.
The audio for the event will be provided through your computer speakers via Adobe Connect (there will NOT be a teleconference number to dial into). We recommend that you test your PC or mobile device prior to the event and you join the event a few minutes early to address any issues.
To test your PC, please visit:
https://concerted.adobeconnect.com/common/help/en/support/meeting_test.htm
The ZIP files above will be available for download 24 hours before the event.
The above link will become active at the conclusion of the event.
Session Recordings:
The links to the recordings (below) will become active within 24 hours after each session concludes.
Day One:
Day Two:
Questions?
Please refer the FAQs page on this website. If you are not able to find your answer there, please email us at [email protected].
More Information
If you have questions regarding the content of the event or other CDER-specific information, please: