A Joint US-FDA | MHRA-UK | Health Canada Good Clinical Practice
& Pharmacovigilance Compliance Workshop
February 13-15, 2024
View Start Time on World Clock
This is a NO COST event
This workshop will focus on Global Clinical Trials in Good Clinical Practice, Bioequivalence, and Pharmacovigilance in the post pandemic world. Presentations and panel discussions will provide information on the recent updates made to ICH E6(r3) and regulatory perspectives on implementation of proportionate and risk-based approaches to the design and conduct of the trial to help ensure that the quality of the trial data generated is of sufficient quality to support good decision making. Panelists will discuss continuing developments in novel operational approaches, data sources, and technologies used in clinicals trials, as well as novel approaches to regulatory inspections.
The agenda is still being refined and may be updated over time. The current version is v3, uploaded on October 16, 2023.


Speaker Biographies
The speaker biographies document is under development and will be linked here when it is ready.
Venue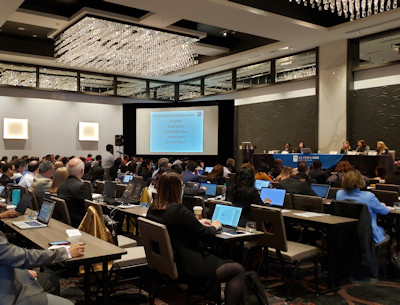 The Hotel at the University of Maryland
7777 Baltimore Avenue, College Park, Maryland 20740
Phone: 301-277-7777
Hotel Room Block Information
You may reserve your guest room within the US-FDA/MHRA-UK/Health Canada room block using this link or by calling THE HOTEL's reservations line at 301-277-7777 and ask to be included in the "US-FDA/MHRA-UK/Health Canada" room block. The rooms are subject to availability, so please book your rooms now! You will be responsible to reserve and pay for your own room accommodations. Please be mindful of the hotel's policy regarding cancellations and early checkout.
Transportation & Parking
Discounted daily self-parking for attendees: $10.00 (day guests); $14 overnight. Please view the hotel's Transportation page for transportation and parking information.
Dining
Please view the hotel's Dining page for information on the food choice in the hotel. Potomac Pizza and Bagel 'n Grinds allow you to pre-order online, which may help expedite your lunch break.
Networking Opportunity
A networking opportunity is available for on-site attendees during the conference. The networking event will be held in the Lobby Bar at the hotel. This is an optional self-pay event.
Recording Disclosure
This event will be recorded and made available to the public after its conclusion. Any information shared publicly by participants during the event will become part of that recording. This includes the verbal questions and answers sessions.
For Reasonable Accommodations
If special accommodations at the workshop are needed due to a disability, please email CDERSBIA@fda.hhs.gov at least 7 days in advance of the workshop date. Requests for sign language interpretation or Computer Aided Realtime Translation (CART)/captioning should be made 2 weeks in advance of the workshop and should be sent directly to the FDA Interpreting Services Staff email account: interpreting.services@oc.fda.gov.
Virtual Attendance: LOGIN Information
The links below will become active on the day of the workshop.
Room One
Ability to submit questions, but cannot pause or rewind
1,000 seats – Use Room Two if this room is full
Room Two
Ability to pause or rewind, but cannot submit questions, download slides below
Unlimited Seating
The above rooms will open ~15 minutes before the webinar begins.
If you encounter any technical issues, visit the Technical Issues Support Page
The audio for the event will be provided through your computer speakers via Adobe Connect (there will NOT be a teleconference number to dial into). We recommend that you test your PC or mobile device prior to the event and you join the event a few minutes early to address any issues.
To test your PC, please visit:
https://concerted.adobeconnect.com/common/help/en/support/meeting_test.htm
Download Presentation Slides:
ZIP of the Day One Slides
ZIP of the Day Two Slides
ZIP of the Day Three Slides
Evaluation & Certificate:
Evaluation & Certificate of Attendance
The above link will become active near the close of the first day of the event.
Session Recordings:
Recordings will be linked here as soon as they are available.
Continuing Education:
Real-time attendance is required for the certificate of attendance which can be used in support of CEs for the following professional organizations.
Certificates are only available during the two weeks post-event (until March 1, 2024).
This event has been pre-approved by:
RAPS as eligible for a maximum of 12 credits for a two-day event (appropriate to real-time attendance) towards a participant's RAC recertification upon full completion.
SOCRA who accepts documentation of candidate participation in continuing education programs for re-certification if the program is applicable to clinical research regulations, operations or management, or to the candidate's clinical research therapeutic area.
SQA as eligible for 1 non-GCP or non-GLP unit for every 1 hour of instructional time towards a participant's RQAP re-registration.
ACRP for continuing education in clinical research. ACRP will provide 1 ACRP contact hour for every 45-60 minutes of qualified material.
Questions?
Please refer the FAQs page on this website. If you are not able to find your answer there, please email us at info@sbiaevents.com.
More Information
If you have questions regarding the content of the event or other CDER-specific information, please: