Regulatory Education for Industry (REdI):
Pharmaceutical Quality Symposium
October 16 & 17, 2019 This event is FREE to attend

FDA will discuss the latest developments in pharmaceutical quality and provide case studies that illustrate the most effective ways to address quality issues and interact with the agency.

In this era of globalization, engaging stakeholders is essential to furthering the overall commitment to pharmaceutical quality. FDA's goal for this event is to share information and emphasize the critical role quality plays in assuring the safety and efficacy of pharmaceutical products.

We look forward to discussing this commitment to quality with you at this symposium.

Keynote Speakers:

Patrizia Cavazzoni, MD


Deputy Center Director for Operations
CDER | FDA

Michael Kopcha, PhD, RPh


Director
Office of Pharmaceutical Quality (OPQ)
CDER | FDA
Topics Include:
Manufacturing and the Quality Assessment of Applications
Quality Beyond Application Approval
Emerging Technologies in Pharmaceutical Manufacturing and Design
Happenings in Biologics: Biosimilars and "Deemed to be a License" Products
Who Should Attend?
Regulatory affairs professionals (innovator and generic or biosimilar)
Manufacturing professionals (domestic and foreign; drug product and API)
Foreign regulators
Healthcare professionals interested in learning more about the FDA's drug quality functions
Continuing Education Credit
This two-day conference has been pre-approved by RAPS as eligible for up to 12 credits towards a participant's RAC recertification upon full completion.
This event has been pre-approved by SQA as eligible for 0.25 non-GCP or non-GLP units for every 1 hour of instructional time towards a participant's RQAP re-registration.
ACRP provides research-specific continuing education for the completion of this activity. Contact hours are provided at 1 point/hour for at least 45-60 minutes of qualified material.
SOCRA accepts documentation of candidate participation in continuing education programs for re-certification if the program is applicable to clinical research regulations, operations or management, or to the candidate's clinical research therapeutic area.
Attendance is required for attendance certificates which are

only available during the two weeks after the event

.
The agenda is subject to change. Updated versions will be linked here as they become available. The current version is 2, uploaded on August 27, 2019.
This PDF file contains brief biographies of the FDA speakers participating in the conference. The biographies document is still under development and will be linked here as soon as it is ready.
Venue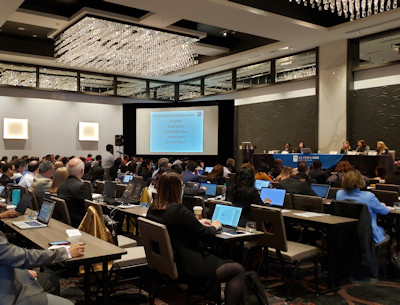 The Hotel at the University of Maryland (thehotelumd.com)
7777 Baltimore Avenue, College Park, Maryland 20740
Phone: 301-277-7777
Conference is in Ballroom A/B
Hotel Room Block Information
You may reserve your guest room within the Phamaceutical Quality Symposium 2019 room block using this link or by calling THE HOTEL's reservations line at 844-954-6835. The discounted rate of $189 will expire on October 1, 2019 or when the block is filled, whichever comes first, so please book your rooms now. You will be responsible to reserve and pay for your own room accommodations. Please be mindful of the hotel's policy regarding cancellations and early checkout.
Transportation & Parking
Please view the hotel's Transportation page for transportation and parking information.
Networking Opportunity
A networking opportunity is available for on-site attendees during the conference. The networking event will be held in the Lobby Bar at the hotel. This is an optional self-pay event.
Recording Disclosure
This event will be recorded and made available to the public after its conclusion. Any information shared publicly by participants during the event will become part of that recording. This includes the verbal questions and answers sessions.
For Reasonable Accommodations
If special accommodations at the workshop are needed due to a disability, please email [email protected] at least 7 days in advance of the workshop date. Requests for sign language interpretation or Computer Aided Realtime Translation (CART)/captioning should be made 2 weeks in advance of the workshop and should be sent directly to the FDA Interpreting Services Staff email account: [email protected]
Please register to attend virtually if you are unable to travel to College Park, MD to attend in-person. The virtual conference will be hosted via Adobe Connect and is limited to 2,000 simultaneous attendees (1,000 each in Room One and Room Two). If a room is full when you attempt to enter, please try the other room. The recordings of each of the sessions will be posted on the Past Events page within 24 hours.
The links below to the Adobe Connect room for each track will be activated shortly before the event begins.
The above rooms will open 15 minutes before each day begins.
Randomly pick whichever Room you prefer. Please do not join both rooms at the same time.
The audio for the event will be provided through your computer speakers via Adobe Connect (there will NOT be a teleconference number to dial into). We recommend that you test your PC or mobile device prior to the event and you join the event a few minutes early to address any issues.
To test your PC, please visit:
https://concerted.adobeconnect.com/common/help/en/support/meeting_test.htm
The ZIP files above will be available for download 24 hours before the event.
The above link will become active at the conclusion of the event.
Session Recordings:
The links to the recordings (below) will become active within 24 hours after each session concludes.
Day One:
Day Two:
Questions?
Please refer the FAQs page on this website. If you are not able to find your answer there, please email us at [email protected].
More Information
If you have questions regarding the content of the event or other CDER-specific information, please: